News
MATH+Board elected
On October 30, 2018, the first general assembly of the new Cluster of Excellence MATH+ took place. Martin Skutella (TU Berlin) was elected MATH+ Chair, Michael Hintermüller (HU Berlin, WIAS) and Christof Schütte (FU Berlin, ZIB) as Co-Chairs. The other members of the newly elected MATH+ Board are Rupert Klein (FU), Gitta Kutyniok (FU), John M. Sullivan (TU), Caren Tischendorf (HU), Felix Günther (TU) as Postdoc Representative and Michael Rothgang (BMS) as Student Representative. Congratulations to all!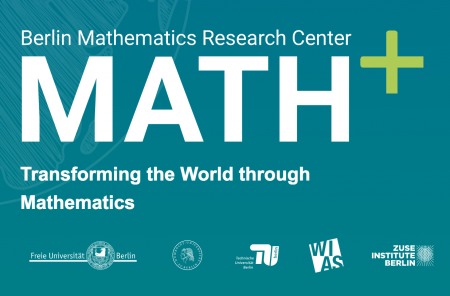 Mathematics shaping the future
MATH+ The Berlin Mathematics Research Center chosen as new cluster of excellence
Sustainable energy supply, individualized medicine or the analysis of social processes: Technology and society face challenges that are characterized by increasing complexity, driven, among others, by increasing digitization and ever larger amounts of available data. Mathematics plays a key role in mastering all this and taking advantage of the opportunities that come with it. With the Berlin Mathematical Research Center MATH+ we build an interdisciplinary and interinstitutional cluster of excellence that develops new approaches to application-oriented mathematics. This should benefit both diverse applications and mathematics itself.





From September 24 to 28, 2018, the workshop ALEX2018 will take place at WIAS and HU Berlin. 12 keynote lectures and around 30 invited talks will address new aspects for evolutionary PDEs (partial differential equations) with a wide range of applications in physics, biology, chemistry and engineering. The afternoon of September 26th is reserved for a special colloquium in honor of Alexander Mielke's 60th birthday.

Volker Mehrmann elected new EMS-President
Congratulations to Volker Mehrmann, who was elected as the new President at the annual meeting of the European Mathematical Society (EMS). He will take up his four-year term on 1 January 2019. Read in the interview what he has set on his agenda. The press release can be found here.